Overview
Automatic Clamping Car Wireless Charger ,10W Quick Charge Phone Holder +Air Purifier
As cars become more and more a tool for people to travel, the use of mobile phones while driving is also essential. Therefore, the mobile phone holder will become a necessity for drivers.
SAFETY:
Required for drivers. Make driving safer when answering calls and navigating maps. Drivers can free their hands when using mobile phones while driving.
CONVENIENCE:
1. Our products are suitable for almost all mobile phone brands and models.Dedicated to intelligent induction,which means automatic clamping when put down,automatically release when removed, adapt to the market mainstream smart phone
10W Fast Charging Adopts high charging efficiency upgraded independent coil, Qi wireless fast charging provides up faster charge than most wireless car charger mounts in the market.
(MAKE YOUR PHONE WIRELESS WITH THE BELOW ADAPTER)
2.Make the Air in your car fresh, automatic fresh the car when plug in power, 3 in 1 design: car phone holder + wireless phone charger +air purifier;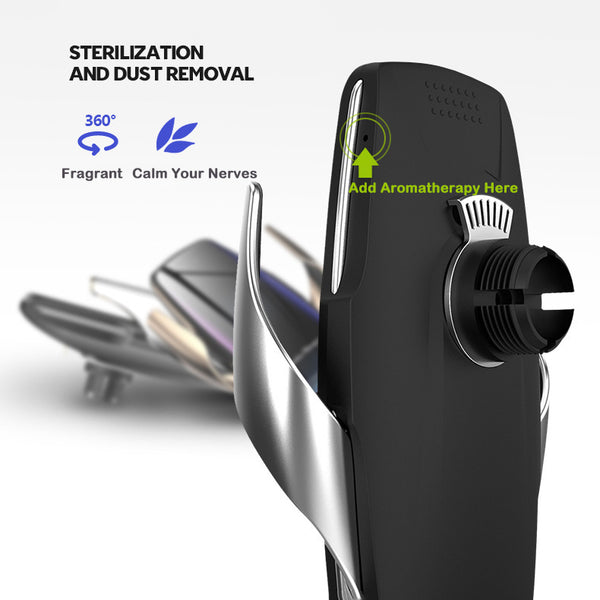 3. Infrared Auto-sensing & Single-handed Operation When put the phone near 3 cm to the infrared auto-sensing area of the car phone holder, the width of the holder can be flexibly adjusted to hold phones of size from 4.0"-6.0" automatically.

RELIABILITY:

Air Vent Phone Holder Mount Compared with windshield or dashboard mount, the air vent mount is much easier for you to reach the phone in the car and causes less distraction during driving. 
You can securely install this phone holder on almost any vehicle's air vents with a hassle-free mounting that is managed in seconds, with absolutely no tools required.
QUALITY MATERIAL 

Anti-scratch & anti-slip rubber material base padding for a secure and safe grip, allowing for a worry-free trip.